loaction:
Home
> Products > Condenser/Air cooler/Evaporator > D Series Air Cooler
Products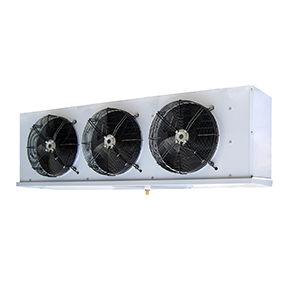 D Series Air Cooler
Air cooled evaporator is a kind of cooling equipment suitable for various cold storage , such as quick frozen ,
fresh keeping and etc,There are three type available:DL,DD and DJ , which fits for the different cold temperature.
It has compact structure and make full use of warehouse area, which can make the storage
food cool rapidly and improve the frsehness of storage food.
DL type is suitable for fresh-keeping storehouse around 0 degree,
DD type is suitable for chiller room around -18 degree,
DJ type is suitable for freezer room around -25 degree.
Series

Model

Capacity (kw)

Fan Motor

Pipe Dia(mm)

R22

R404A

Quantity

Diameter
(cm)
Air Volume
(m

3

/h)

Air Throw
(W)

Liquid

Gas

DL Type Air Cooler
(Fin Space:4.5mm)

DL2.2/311A

2.2

2.3

1

31

1500

90

φ12.7

φ12.7

DL3.5/311A

3.5

3.7

1

31

1500

90

φ12.7

φ19

DL4.7/312A

4.7

4.9

2

31

3000

180

φ12.7

φ22

DL6/312A

6

6.3

2

31

3000

180

φ12.7

φ22

DL9/352A

9

9.5

2

35

4500

280

φ16

φ22

DL12.5/402A

12.5

13.1

2

40

7000

390

φ16

φ22

DL14.5/402A

14.5

15.2

2

40

7000

390

φ16

φ28

DL17/402A

17

17.9

2

40

7000

390

φ16

φ28

DL25/502A

25

26.3

2

50

12000

1000

φ22

φ35

DL29/453A

29

30.5

3

45

13500

840

φ22

φ35

DL36.5/503A

36.5

38.3

3

50

18000

1500

φ22

φ42

DL42/503A

42

44.1

3

50

18000

1500

φ22

φ42

DL49/503A

49

51.5

3

50

18000

1500

φ22

φ54

DL59/504A

59

62

4

50

24000

2000

φ22

φ54

DL70/554A

70

73.5

4

55

30000

3000

φ22

φ54

DL84/554A

84

88.2

4

55

30000

3000

φ28

φ54

DL103/604A

103

108.2

4

60

42000

3400

φ28

φ60

DL112/634A

112

117.6

4

63

46000

3520

φ35

φ60

DL122/634A

122

128.1

4

63

46000

3520

φ35

φ60

DD Type Air Cooler
(Fin Space:6.0mm)

DD1.4/311A

1.4

1.5

1

31

1500

90

φ12.7

φ12.7

DD2.3/311A

2.3

2.4

1

31

1500

90

φ12.7

φ19

DD3/312A

3

3.2

2

31

3000

180

φ12.7

φ22

DD4.5/312A

4.5

4.7

2

31

3000

180

φ12.7

φ22

DD6/352A

6

6.3

2

35

4500

280

φ16

φ22

DD7.5/402A

7.5

7.9

2

40

7000

390

φ16

φ22

DD9/402A

9

9.5

2

40

7000

390

φ16

φ28

DD11/402A

11

11.6

2

40

7000

390

φ16

φ28

DD15.5/502A

15.5

16.3

2

50

12000

1000

φ22

φ35

DD19/453A

19

20

3

45

13500

840

φ22

φ35

DD24/503A

24

25.2

3

50

18000

1500

φ22

φ42

DD29/503A

29

30.5

3

50

18000

1500

φ22

φ42

DD32/503A

32

33.6

3

50

18000

1500

φ22

φ54

DD38/504A

38

39.9

4

50

24000

2000

φ22

φ54

DD47/554A

47

49.4

4

55

30000

3000

φ22

φ54

DD58/554A

58

60.9

4

55

30000

3000

φ28

φ54

DD72/604A

72

75.6

4

60

42000

3400

φ28

φ60

DD79/634A

79

83

4

63

46000

3520

φ35

φ60

DD88/634A

88

92.4

4

63

46000

3520

φ35

φ60

DJ Type Air Cooler
(Fin Space:9.0mm)

DJ1.7/311A

1.7

1.8

1

31

1500

90

φ12.7

φ19

DJ2.2/312A

2.2

2.3

2

31

3000

180

φ12.7

φ22

DJ2.7/312A

2.7

2.8

2

31

3000

180

φ12.7

φ22

DJ4.2/352A

4.2

4.4

2

35

4500

280

φ16

φ22

DJ5.6/402A

5.6

5.9

2

40

7000

390

φ16

φ22

DJ6.8/402A

6.8

7.1

2

40

7000

390

φ16

φ28

DJ7.8/402A

7.8

8.2

2

40

7000

390

φ16

φ28

DJ11.5/502A

11.5

12.1

2

50

12000

1000

φ22

φ35

DJ14/453A

14

14.7

3

45

13500

840

φ22

φ35

DJ17/503A

17

17.9

3

50

18000

1500

φ22

φ42

DJ20/503A

20

21

3

50

18000

1500

φ22

φ42

DJ23/503A

23

24.2

3

50

18000

1500

φ22

φ54

DJ26/504A

26

27.3

4

50

24000

2000

φ22

φ54

DJ31/554A

31

32.6

4

55

30000

3000

φ22

φ54

DJ40/554A

40

42

4

55

30000

3000

φ28

φ54

DJ49/604A

49

51.5

4

60

42000

3400

φ28

φ60

DJ53.6/634A

53.6

56

4

63

46000

3520

φ35

φ60

DJ58/634A

58

61

4

63

46000

3520

φ35

φ60